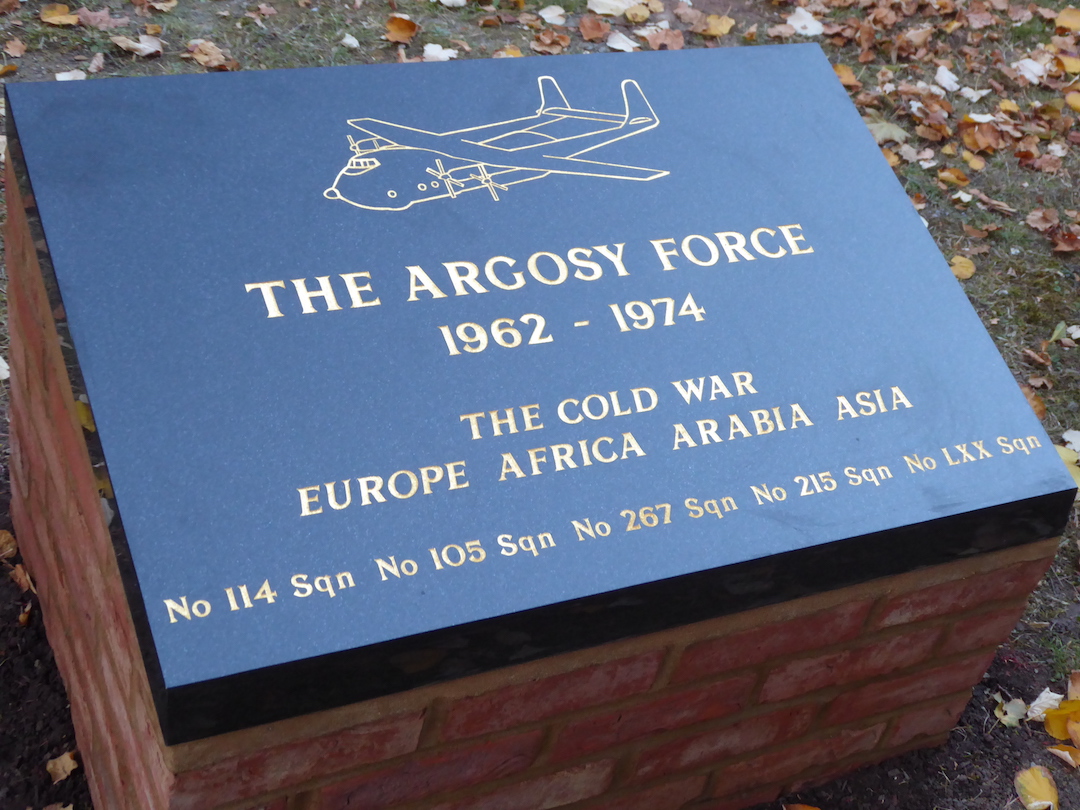 2018 ARDET REUNION
The Reunion was a wonderful event, incorporating the unveiling of the Argosy 'Mark' and a return to the Sergeants' Mess for the reunion itself. For details go to
REUNION PICS
[22 Oct 18]
Graham 'Squeek' Wade had passed on the sad news that
Dave Riley
has died of cancer. He was an engine fitter on the introduction of the Argosy and served in Changi from 1963 on ASF and First Line. He was a regular reunion attendee, but could not make it this year. We pass our condolences to Dave's family.
[17 Oct 18]
Mike Crossman (was Groizard)
has joined ARDET. He was on First Line at Benson on 114 and 267 Sqns and then on VASF at Sharjah for the twice-daily visit of Argosies from ARDET. He was then on 70 Sqn Akrotiri, seeing the transition halfway through his tour from the Argosy to the C130. We welcome Mike to the fold.
[9 Oct 18]
If any lady lost a silver earring at the Reunion, please contact
Geoff Walker
, who has it.
[5 Oct 18]
Neil Cairns
has joined ARDET. He started at Benson on the Major Rectifications Flt 1969-72 and did 3 Bahrein ARDET detachments, seeing the Argosy out at Benson and into Cottesmore in 1972. He retired as a Ch/Tech from RAF Halton as an instructor in 1988. We welcome Neil to the ARDET fold.
[3 Sep 18]
Ralph Darnell
has joined the ARDET Group. He was a navigator on 114 Sqn 1968-71 (including 4 ARDETs) and 115 Sqn in 1972. We welcome him to the fold.
[25 Aug 18]
Barry Townley-Freeman
has asked to join ARDET. Barry was a flight engineer on 215 and 267 Sqns before moving to BOAC/BA. He was awarded the BALPA Gold Medal in 1990. We welcome him to the ARDET group.
[23 Aug 18]
Alan Baker has passed the sad news that
Dom Parkinson
died on 19 August. Dom was a navigator on 215 Sqn 63-66, 267 Sqn 66-68 and 115 Sqn 68-71 & 75-80; also display pilot for the RAFGSA. He had been taken ill in Martinique and flown home to UK by air ambulance, but died 8 months after being diagnosed with a brain tumour. We send our condolences to his wife, Caroline, and children. The funeral will take place at 1200 on Friday 31 August at St Adhelm's Church, Malmsbury, Wiltshire; ARDET members are welcome to attend.
[29 May 18]
Martin Willing has passed us the sad news that
Tony Ogden
had died in Spain on 18 December; he had suffered from cancer for a long time. Martin recalls that Tony was on No 11 Course in 1963 and joined 105 Sqn in Aden. When the main force disbanded, he went to 115 Sqn at Watton before retiring to join BEA on Viscounts. After a spell in Birmingham, he moved to Jersey, and ultimately back to Sussex and B Tours - from whom he retired at 55 and joined Singapore Airlines until aged 60. We pass our condolences to Tony's family.
[27 Apr 18]
Ken Patchett
has asked to join the ARDET Group. Ken was a navigational instrument technician at Thorney Island in 1962 and 1966-69 and now lives in Havant. We welcome him to the fold.
[23 Apr 18]
David Pyne has passed the sad news that
Brian Prior
died of cancer in March. Brian was a navigator on 267 Sqn in 1967-68 and completed an ARDET in 1968. We pass our condolences to Brian's family.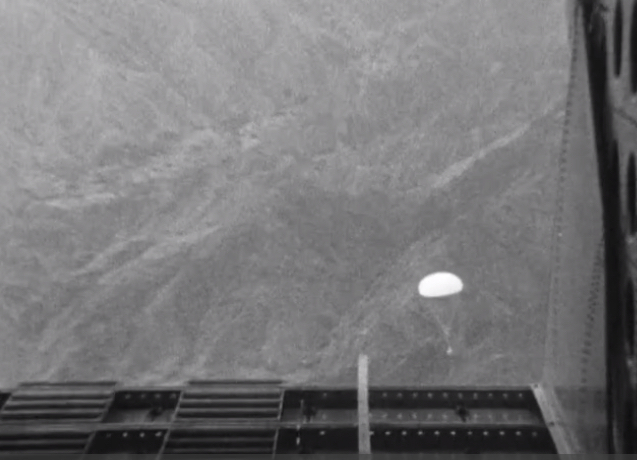 [9 Jan 18]
Tex Macaulay
has found a black-and-white short film 'Soldier in the Sun', covering Aden and Radfan in 1964. It has many shots of Argosies, Bevs and Hunters, including interesting shots of Argosies delivering one-ton containers to the troops on top of Jebel Wadina. The film can be found at the
BBC
.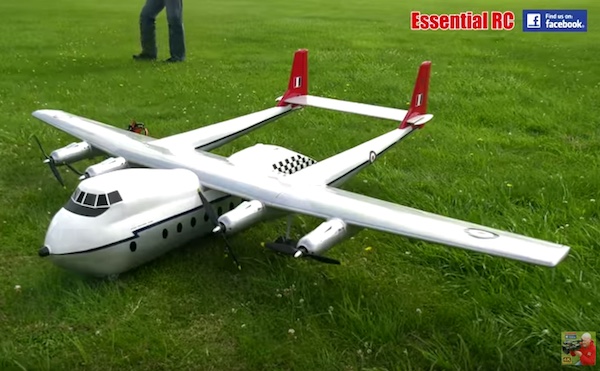 [8 Jan 18]
Dick Amor
has found yet another gem - a video of a large electric-powered flying model Argosy. In Boscombe Down colours, it flies beautifully and drops loads from the rear doors (but the parachute packer is not much good . .). Click on
YouTube
to view.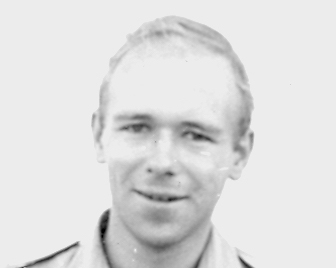 [Updated 3 Jan 18]
Norman Hodnett has passed us the sad news that
Alan Selby
died on 30 December after a long and hard fight against cancer. He had been in Chichester Hospital for a couple of weeks. Alan was on 105 and 114 Sqns before joining BA, and was a regular attendee at our reunions. We pass our heartfelt condolences to his wife, Valerie, and their family. The funeral will take place at 1400 on Friday 26 January at Worthing Crematorium (Horsham Road, Findon, West Sussex, BN14 0RG). Please email Valerie if you wish to attend via
vie48@aol.com
. The undertakers are: HD Tribe, 19 West St, Storrington, RH20 4DZ. Flowers are welcome, or donations to Cancer Research UK or Macmillan Nurses, Midhurst.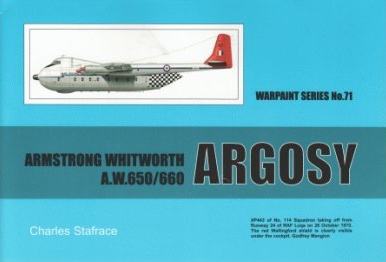 [23 Dec 17]
Dick Amor
has also found a recently-published book on the development of the Argosy and its civilian and military use. It's available in the 'Warpaint' series and is number 71. He explains that it contains several photographs and is worth a look for those who are interested. The author, Charles Stafrace, hasn't quite got all his details correct and there are some errors . . for example, he says that 38 people were killed when XP133 crashed at Afrag, when the number was 11. He also has the landing weight of the Argosy at 90,000 lbs when it was 92,000 . . and a coloured depiction of the battle-axe on a 105 aircraft shows a blue handle and not a green one! Some errors in his research or perhaps misprints! There is only one picture of a crew member at work and this is an AEO in the back of a 115 Sqn aircraft. Dick doesn't know of any other books concerning the Argosy unless any of our members is compiling one! The book can be found at
Guideline Publications
.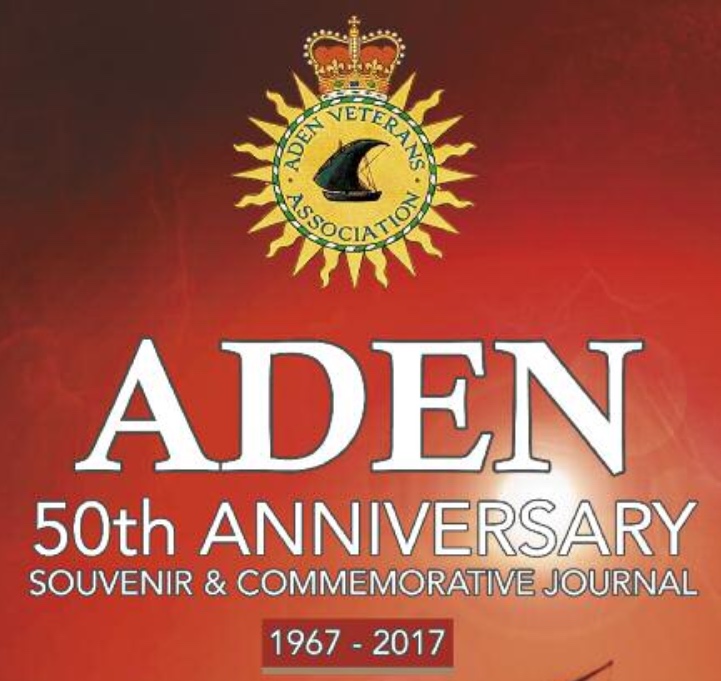 [14 Nov 17]
Dick Amor
has found an impressive 'Aden 50th Anniversary Souvenir & Commemorative Journal, 1967-2017'. The huge (112-page) journal gives an enormous amount of background as well as fascinating descriptions of the problem times and the withdrawal, including Argosy activities. It's a must-read for those involved and can be freely read and downloaded from
Horizon Publications
.
[8 Nov 17]
Phill Phillips
has found us on the web and has joined ARDET. He was stationed at Benson on 2nd line, initially 1962-64 as a mechanic and then as a fitter in 1967-71. He was detached to Nicosia during runway repairs at Akrotiri Sep-Dec 69 and was on a 1970 ARDET. We welcome Phill to the ARDET fold and look forward to seeing him at the 2018 reunion.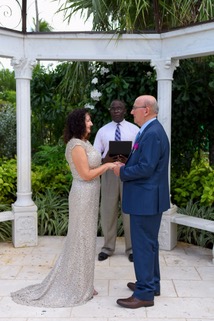 [24 Oct 17]
Congratulations to
Donna and Dave Pritchard
on their wedding last week in Nassau. We wish them all the best for their future in the US . . click for larger image.
The
2017 ARDET REUNION
was this year held at the George Hotel, Wallingford, due to infestation and asbestos problems at Benson. But, thanks to much work by Geoff & Barbara Walker and the hotel staff, it was a most enjoyable evening. We also heard from Norman Hodnett on plans for a 'Mark' to commemorate the 4 squadrons that formed at Benson - more news to follow. Pics can be found at
REUNION PICS
below . .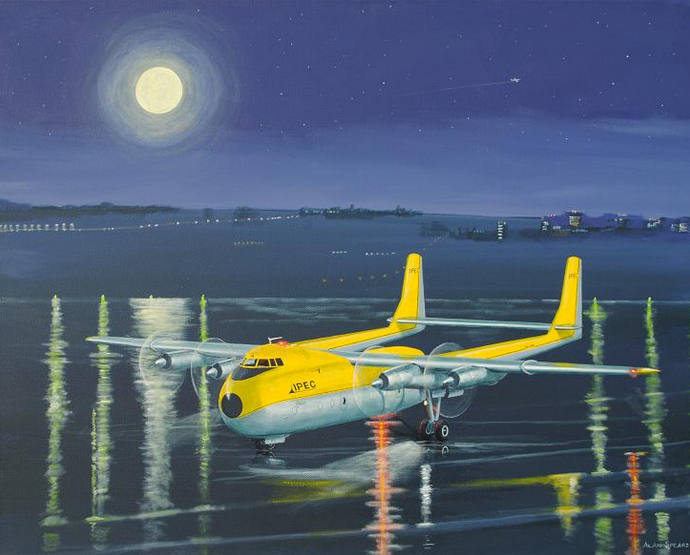 [27 Jun 17]
An aviation artist (and ex-professional pilot), Alan Spears, has put some attractive paintings of civil IPEC Argosies on his
website
. Some have been added to our
CIVIL AIRCRAFT PICS
- well worth a look . .
[23 Jun 17]
Trevor Lightburn has had a message from Howard Maynard that his father
Geoff Maynard
died last weekend. Geoff was a flight engineer on 114 Sqn 68-69 and Eng Ldr on 115 Sqn 69-72. He had previously completed 23 ops on Lancs with 625 Sqn in 44-45 followed by tours on Hastings, Beverleys and finally the Argosy. The funeral will take place at 1140 on 4 July at Rose Hill Crematorium, Cantley, Doncaster, DN4 6NE - all old friends are welcome to attend. We pass our condolences to Geoff's family.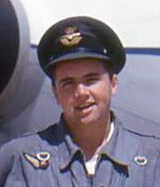 [7 May 17]
We have heard from his son the sad news that
Mike Langley
died of bladder cancer last weekend. Mike was a nav on 105 Sqn when it first went to Aden and came back to 114 Sqn. He later went on to become A Flt Cdr on 32 Sqn Andovers and Wg Cdr Ops at Aldergrove. Around 1998 he joined Oxford Air College at Kidlington, later becoming General Manager. The funeral service will be held at 1100 on 19 May at West Wiltshire Crematorium, Trowbridge, BA14 6HL, followed by a reception at Corsham Cricket Club, SN13 9EU - all are welcome, but no sombre dress and please let Jeremy Langley
jeremyjlangley@gmail.com
or Isobel Hall
isobel@kuraaviation.com
know if you intend to come along. We pass our heartfelt condolences to family members Anne, Andrew, Jeremy & Sophie.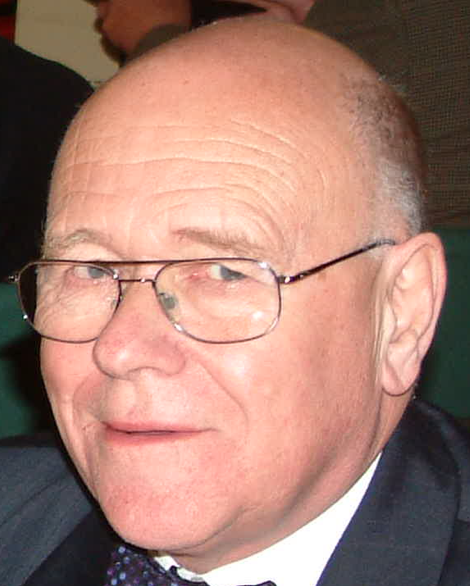 [2 May 17]
Alan Selby
has let Geoff Walker know that, sadly, cancer has returned to his brain, although he had been given the all-clear. He has had a seizure, cannot drive and may have further surgery within a week. He believes that he has seen his last ARDET reunion and thanks us all for our support. We send Alan all the best for successful further treatment.
[20 Apr 17]
Bryan Austin
has found us on the web and has joined ARDET. He was stationed at Benson, initially on 1st line, from 1968 until 1972 when the Argosies left and did 4 ARDETs in that time. After 22 years' service he retired from the RAF in 1977 as a Chief Tech and joined BAC in Saudi Arabia for a couple of years. We welcome Bryan to the ARDET fold and look forward to seeing him at the October reunion.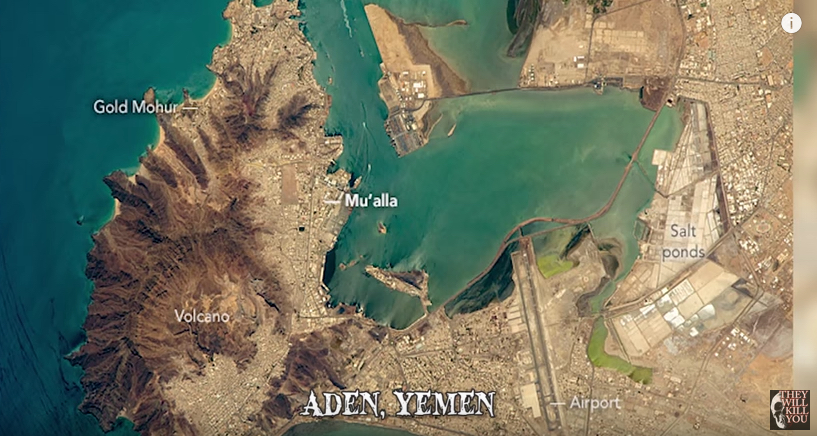 [28 Mar 17]
Aden has been declared as one of the 10 most dangerous ports in the world - perhaps it's just as well that we left . . click for larger image.
[27 Mar 17]
Brothers
Alan and David Skyrme
have joined ARDET. Alan was an engine fitter at Benson 1968-71 and did 2 ARDETs, including Christmas 1968 and another in 1970. David was a rigger at Benson 1969-71 and also did 2 ARDETs in 1970-71. We welcome them to the ARDET fold and hope to see them at the October reunion.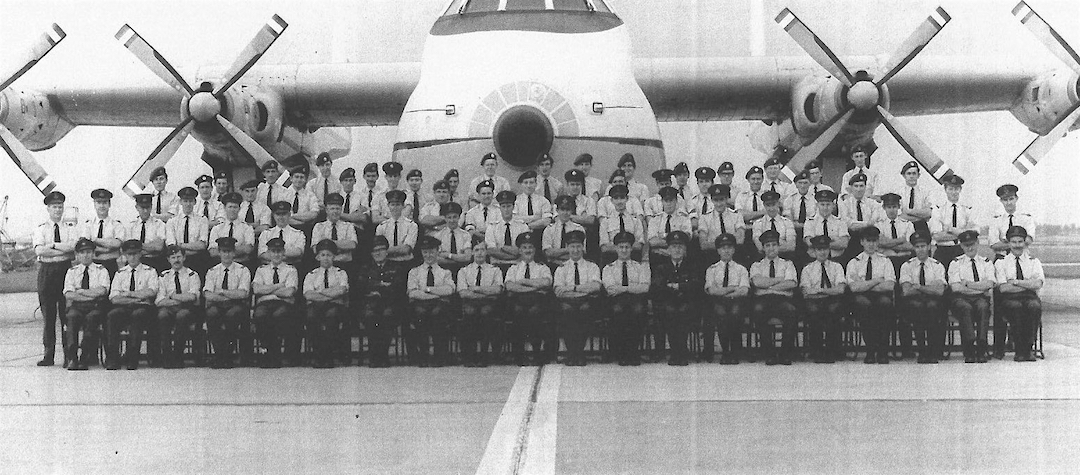 [8 Mar 17]
Trevor Lightburn has visited 94-year-old
Geoff Maynard
- he was a flight engineer on 114 Sqn 68-69 and Eng Ldr on 115 Sqn 69-72. Trevor reports that he is in great shape; his aircrew history includes 23 ops on Lancs with 625 Sqn in 44-45 followed by lots of easy numbers on Hastings, Beverleys and finally the Argosy. Trevor got a copy of the attached photo from him - it is of 115 Sqn at Cottesmore Aug 1970 and has been included in our
PHOTO GALLERY
.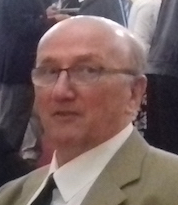 [14 Feb 17]
Members may recall that, in late 2014,
Dave Pritchard's
partner, Jo, died; she was delightful and a regular attendee at the reunions. But Dave has met a new love, Donna, whom he met in the US. Donna's husband of 40 years - a USAF B-52 captain - died in 2015. Dave proposed to Donna on 5 February in Las Vegas and she accepted. So many congratulations to the couple - we hope to see them both at this year's reunion . .
[12 Feb 17]
A colleague of
Jerry King
, Phil Hosey, has sent us pics of XP413 at Funafuti (that's around 0831S 17912E - quite a navex). They can be found at the
PHOTO GALLERY
, with more coming in the reunion show. And whilst talking pics, Alan Selby has pointed out that photo entitled
Benson Area
in Aircraft Pics is in fact over Thorney Island western shore (there's not a lot of sea around Benson . .). The aircraft is also sporting a nose ident letter, which was only carried by 242 OCU aircraft. Thanks Alan - duly corrected.
[27 Nov 16]
John Herbert has received the sad news from James Coldrey that his father
Chris Coldray
died of cancer on 12 November. Chris was an engineer on 114 Sqn 1963-67 and went on to the Hercules, East Africa Airlines and BOAC. The funeral will take place at 1200 on 7 December at Guildford Crematorium, Godalming, GU7 3DB, followed by a reception at Watts Gallery, Down Lane, Compton, GU3 1DQ; all friends are welcome. Family flowers only, with any donations to the Woking Hospice. We pass our condolences to Chris' family.
[21 Nov 16]
We have heard the sad news that Pat Gorman's wife
Livvy
died of a brain tumour on 11 November. Livvy was a regular attendee of our reunions. The funeral will take place at 1500 on 24 November at the Mendip Crematorium, Wells, BA5 3RR, with a following reception at Bowers Farm, Babcary, TA11 7EE. All friends are welcome. We pass our condolences to Pat and their family.
[25 Oct 16]
Andy Rogers
has joined ARDET and came to this year's reunion. He was a rigger who attended 4 ARDETs over 1968-71, including Christmas 68-69. We welcome Andy to the fold.

[21 Oct 16]
A year after
David Paul
died of sepsis, his wife, Sue, has passed the following message to Geoff Walker: 'On behalf of myself, my son Marcus and daughter Sophie, I would like to thank everybody who wrote to us following David's death a year ago. We are also appreciative of all who attended the celebration of David's life. I thank you all very much.'
[10 Oct 16]
The 2016 Reunion was a wonderful evening at Benson, with around 80 attending. Thanks are due to Barbara and Geoff Walker and to the CMC and staff of the Sergeants' Mess for making the evening so enjoyable. Thanks are also due to Graham Humberstone, who put on a barrel in memory of his partner, Janis, who died this year - we send our heartfelt condolences. Both Geoff and Norman Hodnett described efforts to erect a memorial to the Argosy Force, either at the National Memorial Arboretum or at Benson itself (see previous news) and it was overwhelmingly agreed that RAF Benson would be the better site.
Some pics of those attending are at REUNION PICS.
[13 Sep 16]
Argosy Force Memorial
. . a message from Geoff Walker . .
Three years ago, at our Reunion, I proposed that we should consider some form of memorial to the Argosy Transport Fleet. I thought that a memorial at the National Memorial Arboretum (NMA) at Alrewas, Staffordshire would be appropriate. Air Cdre Norman Hodnett very kindly took up the cudgel, and has been in correspondence with the Head Curator and staff at the NMA on our behalf, but has experienced a lack of enthusiasm from them.
After protracted negotiations with the NMA we now need to pay: a) £1,000 non-refundable contribution; b) £60 per square metre of the land; c) 25% of construction costs for future maintenance; d) cost of the Memorial - approx £1,500.
On consideration of the expense of this memorial at the NMA, I suggest that we consider placing the Memorial at RAF Benson, where the vast majority of us have served. I would like to know of your thoughts and preferences and we can then discuss them at the Reunion on 7 October.
Unbeknown to all of you I have secretly squirrelled away £2,085 over the years to help pay for a memorial in the future.
Please pass your comments to Geoff at geoff.walker@bargewalker.com
[3 Sep 16]
Jerry King has passed on the sad belated news that
John Hardwick
has died. He was a Flt Cdr on 215 Sqn and went on to become a Herc Sqn Cdr. Quoting
The Telegraph
: 'John Robert, Group Captain Rtd, passed away peacefully on Sunday 24th July 2016. Sadly missed by his wife, Yvonne, his 3 daughters and 9 grandsons. Private funeral with family flowers only. "Say not in grief that he is dead, but rather to rejoice that he has lived." Donations, if desired, to Macmillan Nurses or St Richard's Hospice, Worcester may be sent c/o Bedwardine Funeral Services, 1 St Johns, Worcester WR2 5AE.' We pass our condolences to Yvonne (whose address we have) and the family.
[11 Jul 16] - UPDATED -
Bob Iredale has heard the sad news from daughter Nicola that her father
Dave Noon
passed away on 1 July. He was on 267 and 114 Sqns, co pilot 1964-67, then as captain and training captain until 1972, based at Benson. He went to CFS Little Rissington on the JP. Nicola tells us that he wrote a piece this year about his time flying: 'He nearly didn't apply to be a pilot as one of his masters told him he lacked the private income. Just shows you, you should always follow your dreams . .' The funeral service will be at 1100 on Wednesday 20 July at Grantham Crematorium, refreshments afterwards at The Queens Head, Kirkby La Thorpe. *** Trevor Lightburn attended the funeral as the 267/114 Sqns representative. He reports that other ancient aircrew were there too and the present-day RAF was represented by two from 45(R) Sqn at Cranwell - Dave's last role had been as a ground school instructor at the College. Dave's daughter said that he was always mentioning his time on Argosies and how much he enjoyed it.
[23 Apr 16]
Lynda Rayfield has let us know that her ex-husband,
Tony Jennings
, an airframe technician at Benson in the late '60s - early '70s, sadly died on 17 April after a short battle with cancer. The funeral will be on Thursday 28 April at Lytham-St-Annes Crematorium at 1230 and after at St Annes Cricket Club. All ARDET members are welcome. Lynda (nee Webster) was in ATC at Benson at a similar time and is trying to contact a dear friend of Tony, Alan Farrington, who was also an airframe technician at Benson . . please contact the webmaster (dwbroughton69@hotmail.com) with any info.

[11 Mar 16]
Des Lovettt
, a RAAF exchange pilot on 267 Sqn in 1966-68, has joined the fold. He was on No 20 OCU Course and has sent us a pic for the website. Des retired from the RAAF as a Gp Capt in 1984 and became an aviation consultant before finally retiring. We welcome him to ARDET . .

[29 Feb 16]
Jock Manson has spotted an article in the April issue (yes, it's published already . .) of
Flypast
magazine on
Bob 'Tin Leg' Olding
. Bob was a navigator and Flt Cdr on 267 Sqn around 1966. The article, entitled
'Courage over Suez'
, describes the remarkable circumstances that led to Bob losing his leg . . As a Fg Off, he was on exchange to the Royal Navy during the Suez crisis and found himself embarked on HMS EAGLE as nav (or observer in RN parlance) in the lead of 6 Venoms attempting to neutralise Egytian MiGs on the ground. They encountered intense anti-aircraft fire and sustained a hit under the cockpit. On a second run, a hole appeared in the bottom of the cockpit, all hydraulics were lost and it became apparent that Bob had suffered a severe injury - he injected himself with a pain-killer and continued his nav duties. After a wheels-up landing on the carrier and emergency treatment, Bob was flown to Cyprus, where his leg had to be amputated. For his courage in continuing his duties, he was awarded the DSC - a remarkably brave officer . .
[2 Jan 16]
Graham 'Squeek' Wade
has joined the ARDET fold. He was groundcrew on air radar on 215 Sqn at Changi 1963-66. We welcome him to ARDET and hope to see him at Benson in October.

[10 Dec 15]
Bob's son Stuart has passed us the sad news that
Bob Andrews
died on 7 December. He passed away peacefully at a nursing home in Abingdon following an aggressive form of vascular dementia. His last trip out of the home was to this year's ARDET reunion. Bob was an AQM on 105 Sqn 1962-64 and AQM Leader on 114 Sqn 1964-68 and we believe that he is our last member to have served in WW2. The funeral will take place at 1245 on Friday 18th December at the Oxford Crematorium. We pass our condolences to Stuart and members of the family.
[1 Dec 15]
Roger Davies has passed the sad news that
Dave Ronayne
has died. He was a pilot on 215, 70 and 114 Sqns and went on to fly with Britannia Airways. The funeral will take place at 1130 on 11 December at St Augustine RC Church, London Road, Baldock, SG7 6LQ, followed by cremation and a reception at 1330 at Templars Hotel, High St, Baldock, SG7 5AX. Family flowers only, but donations to the Parkinson Society may be sent to funeral directors E H Crouch, 50 High St, Baldock, SG7 6BJ. We pass our condolences to Dave's wife, Helen, and family, who may be contacted at 10 Alder Close, Baldock, SG7 6HN.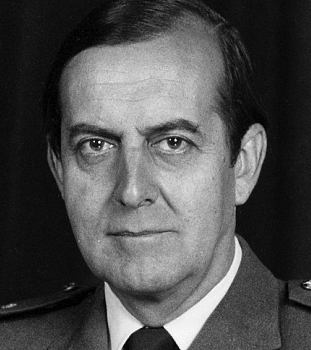 [27 Oct 15]
Some may have noticed that the Station Commander at Khormaksar during the most intensive Argosy time there,
Gp Capt Mike Beetham
, died at the age of 92 on 24 October. He often flew in the Argosy LHS on local and route flights. To quote the fascinating
Telegraph obituary
'Identified as heading for the top of his service, there was a need to broaden his experience. So, in 1964, he was sent to Aden to command Khormaksar, then the RAF's largest operational base, operating a wide variety of tactical and transport aircraft . . his arrival coincided with the start of a major terrorist campaign against British forces and his squadrons were in action over Radfan and in support of ground forces throughout the troubled colony.' He went on, of course, to become Chief of the Air Staff.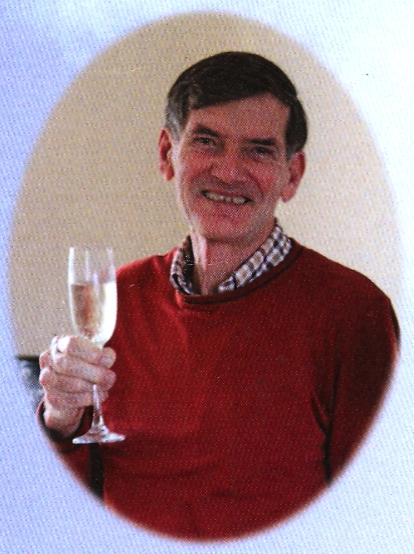 [24 Oct 15 - UPDATED]
Around 240 attended the packed church for a celebration of David's life. His children, Sophie and Marcus, gave a moving tribute to their father, explaining that his tour as youngest captain on 215 Sqn was the best of his career. Final farewells took place in the very crowded Lion Hotel in Buckden . . Jerry King and others have passed us the very sad and unexpected news that
David Paul
died on 21 October. He felt unwell 2 days earlier and his GP rushed him to hospital, where a form of septicemia simply overwhelmed his body. He was a remarkably young-looking 74-year-old and very fit; a pilot on 114 and 215 Sqns, he was still flying as an instructor and living in Buckden, Cambs, alongside a handful of other Ardetians. Many of us enjoyed his company at this month's ARDET reunion.
The funeral service will be on Wednesday 11 November at St Mary's Church, Church Street, Buckden, PE19 5TL at 2pm.
We pass our heartfelt condolences to David's wife, Sue, and family.
[13 Oct 15]
Ken Read
has found the website and joined the fold. Ken was a Nav on 267 & 114 Sqns until '71 and retired in '90 to join BA until '97, then working with Eurocontrol until finally retiring in 2011. We welcome him to ARDET.
[3 Oct 15]
This year's
ARDET REUNION
was held on 2 October in the Sergeants' Mess, RAF Benson. It was a wonderful evening, thanks to Barbara and Geoff Walker's organisation and excellent hosting by the Mess staff. Around 85, including guests, were there. A picture of the assembled Ardetians can be found at the
REUNION PICS
below.
[30 Sep 15]
Geoff Walker has passed the sad news that
Martyn Ashton
died on 22 September at the age of 72. He was a pilot on 114 Sqn towards the end of the Argosy days and went on to civil flying. The funeral will be at St Mary the Virgin Church, Hartfield, TN7 4AG, at 1130 on 9 October. We pass our condolences to Martyn's family.
[23 Aug 15]
Jill Horsfall
is grateful for us having included the sad news of John's passing on the website and has sent the following message: 'Please will you pass on the fact that I am overwhelmed with the wonderful messages I, Pippa and Debbie have had. I knew I'd married a special man but had no idea just how many other people thought he was special too. Also my thanks to all those who have contacted me, some by email, some by letter, cards and telephone and those who were able to come to the service for the celebration of his life. I would have liked to speak for longer to everyone there but it wasn't possible.'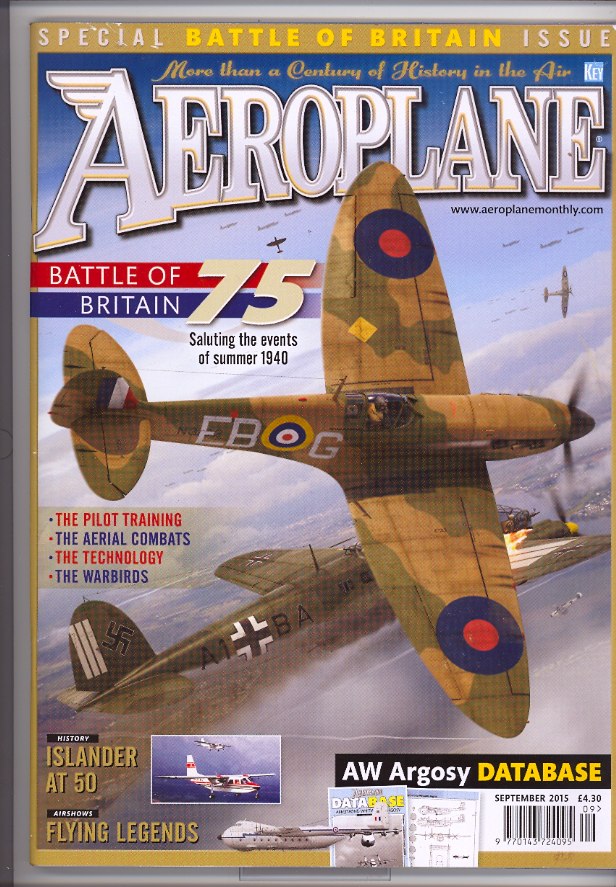 [15 Aug 15]
The September edition of
Aeroplane
magazine features an 18-page 'Database' of the Argosy, covering 'Development, Technical Details, In Service and Insights'. It's a fascinating read, with lots of pictures and drawings accompanying the words - some of which emanate from our own Martin Willing. Well worth a read - it's £4.30 at newsagents.
[10 Aug 15]
Roger Chandler
has joined the fold - he was a copilot on 114 Sqn from Jun 67 to Dec 68, then 70 Sqn from Jan 69 to Jan 72. Initially a copilot, he was transferred to the VIP Argosy (XP444), then converted to Captain while still at Akrotiri . . apparently the best job he had ever had!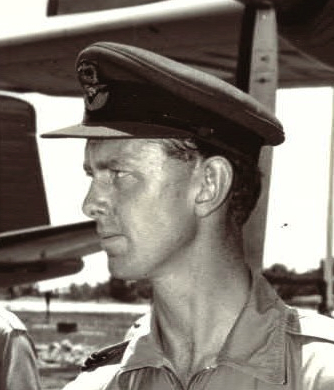 [19 Jul 15]
Geoff Walker has heard from Pippa Horsfall that her father
John Horsfall
died peacefully on 6 July at Swindon Hospital. John was a pilot on 215 Sqn 1963-66. John's funeral will take place at 1215 on Wednesday 12 August 2015 at Salisbury Crematorium, SP1 3JB (family flowers only and no sombre dress) with a following reception at 1430 at the Goa Balti at Everleigh, SN8 3EY. Pippa has asked for any anecdotal memories, which will be incorporated in a 'Memory Book'. Please send snippets to Pippa at
pippahoggandrews@gmail.com
or mobile 07909 522192. We pass our condolences to John's wife
Jill
and all members of John's family.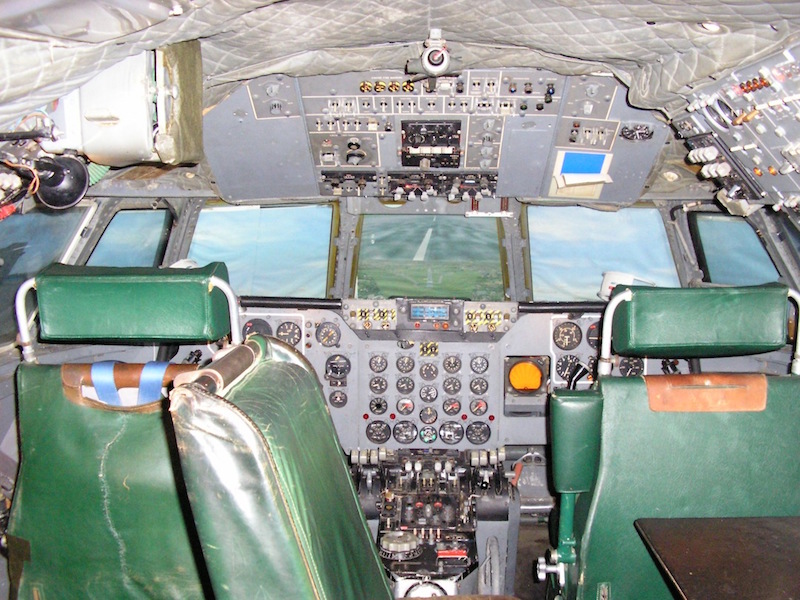 [2 Aug 15]
Trevor Lightburn
visited the Newark Air Museum today and took a couple of photos of the cockpit of XN819 that was recovered from Finningley - where it had been an Engineer Procedure trainer. There is no Nav position installed; the APU panel is there, as is the periscopic sextant mounting - but the museum volunteer had wondered what that was for . . The cockpit is wired up for lights and noise and Trevor reports that children of all ages have a great time in there! He recommends that it's worth a visit if anyone is passing by, it is a few minutes off the A1 at the A46/A17 junction. The museum is open most days, but the Argosy is only open when attended by a volunteer - so a check beforehand is worthwhile. Trevor's pics are in our Photo Gallery.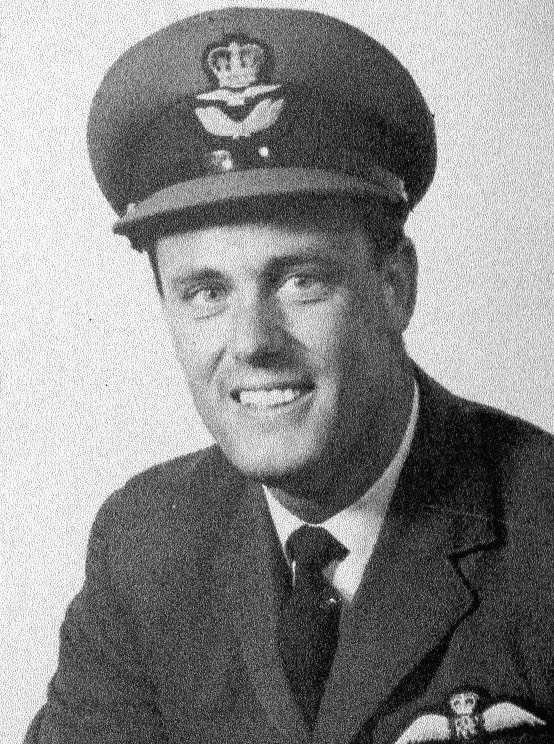 [4 Jul 15]
Jock Manson has passed us the sad news that
Joe Overy
died suddenly on 2 July. The funeral will be at 1230 on Monday 20 July at St Peter's Church, Ardingly, West Sussex, RH17 6UR. Joe's wife has asked that there should be no flowers and no formal funeral outfits, with ladies wearing bright colours. We pass our condolences to Joe's wife and family.
[16 May 15]
John Archer has passed us the sad news that Air Eng
Pete Sheppard
passed away peacefully at home in Aldershot on 22 April after a long illness. The funeral will be at 1130 on 22 May at Aldershot Cremetorium. We pass our condolences to his family.
[28 Apr 15]
Regrettably missed during the revamp of the website was the sad news from Jock Manson that
Barry Nunn
died of cancer on 21 March. Barry was a co-pilot on 215 Sqn and then a captain on 267 Sqn, undertaking at least one ARDET. He went on to the Hercules Force, finishing as a Gp Capt. We send our condolences to his family.
[24 Apr 15]
Norman Hodnett has passed us the sad news that
Mary Hardstaff
died on 19 April. Joe has described this as a merciful release. Mary's funeral is at Semington Crematorium at 1430 on Wednesday 29 April. Joe's address is: 5 Dial Close, Seend, Melksham, SN12 6NP. We pass our condolences to Joe and his family.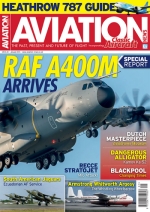 [26 Jan 15]
Nick Huband, son of John Huband, has spotted an article on the Whistling Wheelbarrow in the January issue of
Aviation News
. It's 5 pages of interesting reading - photos included are mainly of civilian aircraft or former RAF machines after they had been sold, but there are also pics of aircraft in RAF markings. If you can't find a copy, it can be bought online at
Aviation News
.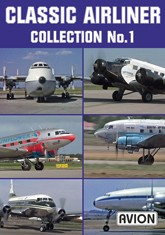 [22 Jul 14]
Nick Huband (see news below) has spotted an impressive DVD featuring Argosies at Benson in 1962. '
Classic Airliner Collection No.1
' from Avion contains 72 minutes of pure nostalgia, including Benson at work. It costs £17.95 + £1.50 P&P from
Avion
[21 Jul 14]
Nick Huband has found the website and passed on the sad news that his father,
John Huband
, died in April 1997. John - who had flown an Argosy on a demo flight at Boscombe Down in July 1959 - went through 242 OCU in 1963, was a captain on 105 Sqn 1964-66, 267 Sqn 1966-68 and on the Argosy Flt at 6 FTS Finningly until 1975. Nick has also walked around Thorney Island within the past couple of weeks and reports that it is a forlorn sight, overgrown with much of the base difficult to see. It seems that the control tower is just a pile of rubble.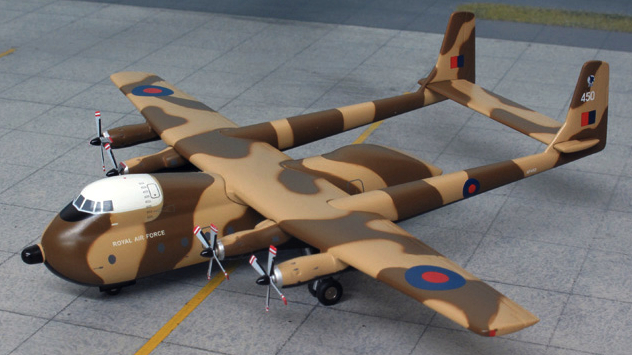 [7 Nov 13]
We have been informed of another company selling what appear to be superb 1:200 Argosy (or 'RAF Benson Load Lugger' as they call it) scale models. They have some in camouflage as well as in Boscome Down livery and the Training Command scheme as at Cosford. The die-cast models cost £50-60. For details see
Flying Tigers Ltd
.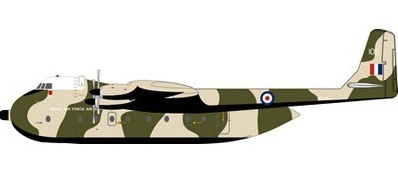 [Dec 12]
Martin Willing tells us that
Aviation 200
is producing Argosy models at 1/200 Scale - a handy size for detail, but not too big that they take up a lot of space. So far, it has produced XN817 in Boscombe Down colours, XP444 in 70 Sqn's colours and they are just producing XP108 in the camouflage scheme; it has also produced XP411 in the Training Command scheme as seen at Cosford. They cost around £50, but look good and a nice reminder of happier times. Martin adds that for those amongst us who are true aviation 'nuts', there are a mass of models at the website in various scales, so one can almost certainly have a collection of all the aircraft in which one has flown. The site is
www.aviationretaildirect.com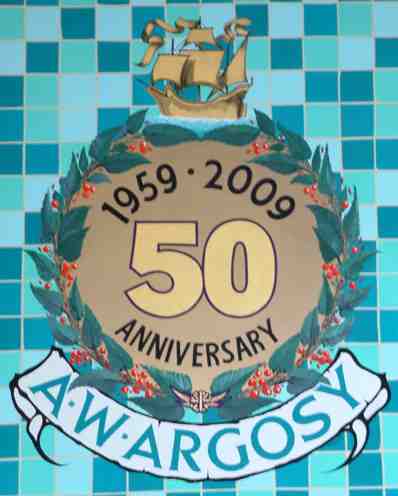 The Midland Air Museum at Coventry ran an Argosy Day on 19 May 2009 to mark the 50th anniversary of the first flight - it was actually on 8 January 1959. Three ARDET members attended - Ian Haldane, Dave Pritchard and David Broughton. To see a few pics of the day,
CLICK HERE
.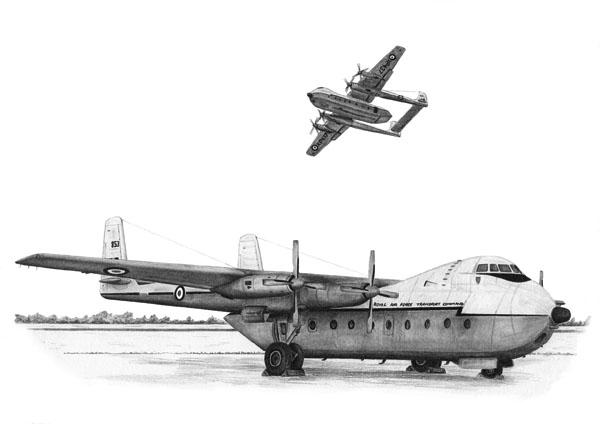 To celebrate 50 years of the Argosy (first flight was in January 1959), Brian Fare has produced a very nice A5-size greetings card featuring a pencil sketch of two aircraft, with more on the back. These can be purchased at £1 each + £1.50 postage for up to 5 cards. To order, email
Brian
.
__________________________________________________
'Drop Zone Borneo'
is a first-hand and entertaining account by
Roger Annett
of two-and-a-half years' excitement in the Far East from 1963 to 1965. It is the story of the so-called 'Confrontation' with Indonesia and the missions flown by the Argosy in support of combat troops on the ground. It is published in hardback with 160 pages and 36 illustrations by Pen & Sword Books (ISBN: 1-84415-396-7) at £15.99 plus £2.50p/p. Orders can be placed on 01226 734555 or at
www.pen-and-sword.co.uk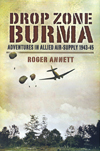 And Roger has written another book -
'Drop Zone Burma'
was published on 23 October 2008. With a strap-line
'Adventures in allied air-supply 1943-45'
, it demonstrates the brave determination of the transport squadrons' air and ground crews and the soldiers who fought one of the longest, most remote and demanding battles of the war. It is published in hardback with 214 pages by Pen & Sword Books (ISBN: 978 1844157504) at £19.99. Contact on 01226 734555 or at
www.pen-and-sword.co.uk
__________________________________________________
An interesting book
'Masirah; Tales from a Desert Island'
by Colin Richardson (an ex-RAF and SOAF pilot) has been found by Trevor Lightburn, who says it brought back a lot of memories (for anyone who wishes to be reminded of the place . . ). It is from Pentland Press with an ISBN 1 85821 801 2. It's still available from the author at £24.95 p&p free; contact Colin Richardson, Five Acres, Fulbeck Lowfields, Grantham, Lincs, NG32 3JD.
__________________________________________________
BACK TO TOP
HOME
THE SQUADRONS
NEWS
REUNION PICS
LINKS
MEMBERS LIST
PHOTO GALLERY