The 2019 REUNION will take place in the Benson Sergeants' Mess on
FRIDAY 4 OCTOBER
. Details to follow, but put it in your diary . .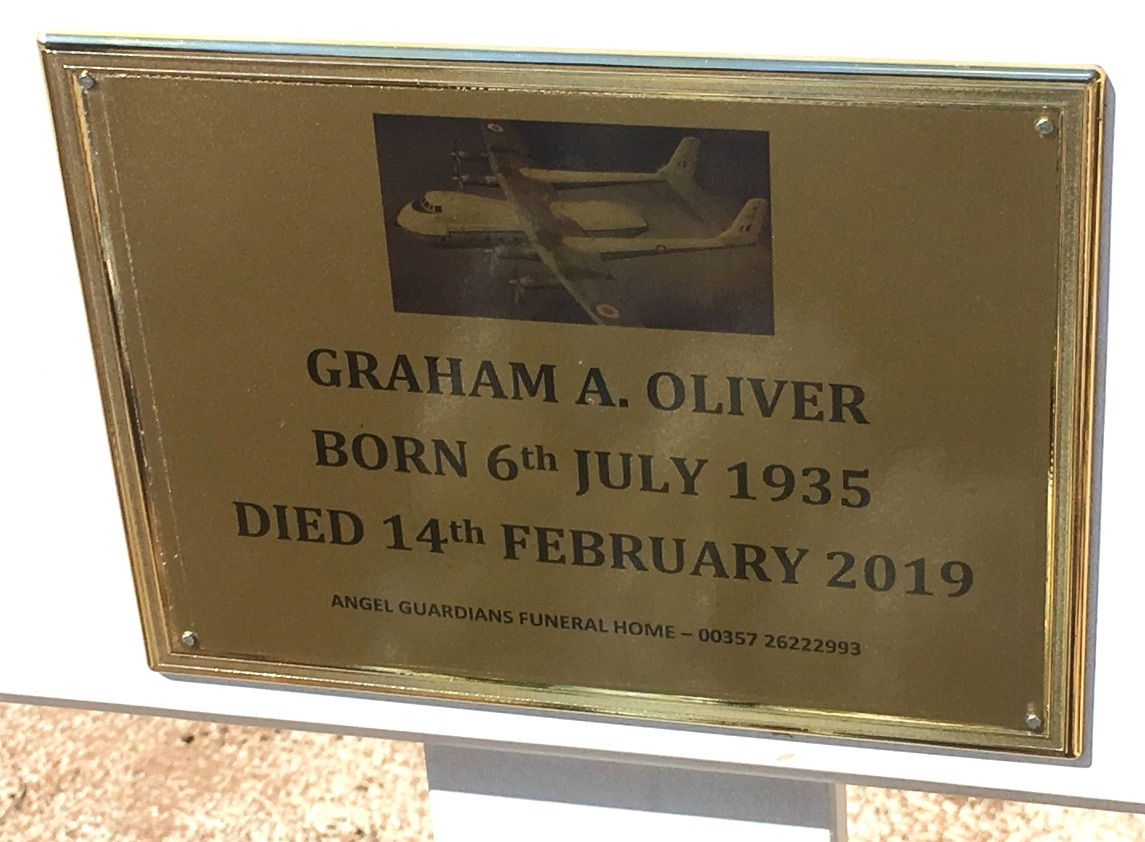 [12 Mar 19]
As mentioned below,
Graham Oliver
, has sadly died and had asked to be buried with a model Argosy and with a picture of an Argosy on his grave's nameplate. His son Mark has passed us this picture of the nameplate - surely the only such one in existence. Again, we pass our condolences to the family, but thank them for remembering father so well.
[16 Feb 19]
Martin Willing has been contacted by Mark Oliver with the sad news that his father
Graham Oliver
has died in Cyprus. Graham was a pilot on 114 Sqn 1964-69 and 70 Sqn 1969-71, and then went on to Britannias, retiring in 1974 to fly with Tradewinds and Gulf Air. He finally retired to Cyprus. The funeral will be at 1100 on 19 February at Peyia Cemetery, Cyprus; he is being buried with a model of an Argosy and is having a picture of the 'old bird' on his nameplate. We send our condolences to Mark and the family.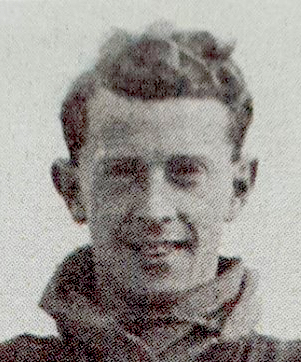 [4 Feb 19]
Giles Dennison has discovered the ARDET website and let us know that his father,
Peter Dennison
, sadly died in August 2006. Peter had piloted Vampires, Meteors and the Beverley before the Argosy; he was on 105 Sqn 1962-64 and then back to Thorney Island and Benson. He retired in 1968 to work for BAC at Weybridge, and then British Airports Authority, where he was involved in airfield planning and safety. We pass belated condolences to son Giles, who assures us that Dad will be in the bar - at least in spirit - at our next reunion.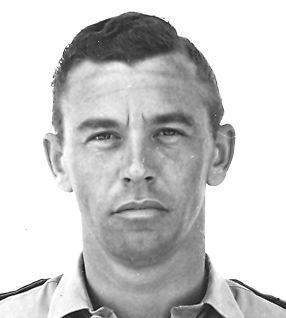 [Updated 23 Jan 19]
Bill Lowe has passed us the sad news that
Graham Humberstone
was found dead in bed on 9 January. Graham was on 114 Sqn 1963-65 and 105 Sqn 1966-68 and then flew the Belfast on 53 Sqn and the OCU before retiring to fly the BAC 1-11 and DC-10 for Laker, followed by the Tristar and 767 for Gulf Air. He was a regular good-fun attendee at our reunions. We pass our heartfelt condolences to Graham's daughter, Ceriann, and family. Graham's funeral will be held at Surrey and Sussex (Worth) Crematorium, Balcombe Rd, Crawley, RH10 3NQ, at 1330 on Monday 11 February. ARDET members would be welcome; please email Ceriann
cpurssey@gmail.com
if attending.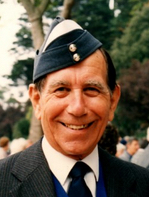 [8 Jan 19]
We have heard from son Brian the sad news that
Peter Crouch
died in January 2018 at the age of 95. Peter joined up in 1942 and trained in Canada, finishing the war flying Halifaxes. In 1948 he joined 47 Sqn flying the new Hastings, then onto Ansons as a Nav School staff pilot and then, after CFS, instructed on numerous aircraft up to the Hunter. After a Far East tour, he converted to the Argosy, instructing at 242 OCU 1963-66, then joining 215 Sqn until 1967 and 70 Sqn until 1970, when he joined the ASC Examining Unit at Benson. After a couple more tours, he retired in 1978 to become Laura Ashley company pilot for a further 10 years. In all, Peter had flown over 11,000 hrs in 75 types and had been awarded the AFM in 1954. We pass our condolences to Peter's family. (The pic shows his typical humour of wearing a cadet's cap when a little old for the part . .)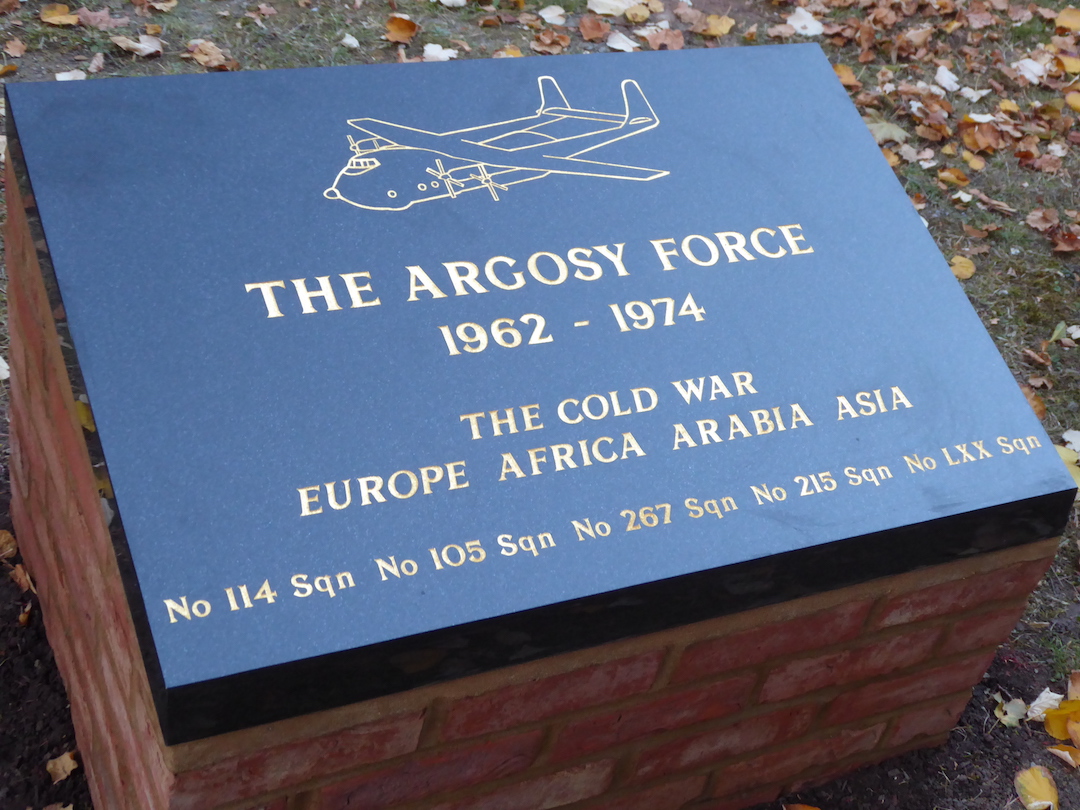 2018 ARDET REUNION
The Reunion was a wonderful event, incorporating the unveiling of the Argosy 'Mark' and a return to the Sergeants' Mess for the reunion itself. For details go to
REUNION PICS
[22 Oct 18]
Graham 'Squeek' Wade had passed on the sad news that
Dave Riley
has died of cancer. He was an engine fitter on the introduction of the Argosy and served in Changi from 1963 on ASF and First Line. He was a regular reunion attendee, but could not make it this year. We pass our condolences to Dave's family.
[17 Oct 18]
Mike Crossman (was Groizard)
has joined ARDET. He was on First Line at Benson on 114 and 267 Sqns and then on VASF at Sharjah for the twice-daily visit of Argosies from ARDET. He was then on 70 Sqn Akrotiri, seeing the transition halfway through his tour from the Argosy to the C130. We welcome Mike to the fold.
[5 Oct 18]
Neil Cairns
has joined ARDET. He started at Benson on the Major Rectifications Flt 1969-72 and did 3 Bahrein ARDET detachments, seeing the Argosy out at Benson and into Cottesmore in 1972. He retired as a Ch/Tech from RAF Halton as an instructor in 1988. We welcome Neil to the ARDET fold.
[3 Sep 18]
Ralph Darnell
has joined the ARDET Group. He was a navigator on 114 Sqn 1968-71 (including 4 ARDETs) and 115 Sqn in 1972. We welcome him to the fold.
[25 Aug 18]
Barry Townley-Freeman
has asked to join ARDET. Barry was a flight engineer on 215 and 267 Sqns before moving to BOAC/BA. He was awarded the BALPA Gold Medal in 1990. We welcome him to the ARDET group.
[23 Aug 18]
Alan Baker has passed the sad news that
Dom Parkinson
died on 19 August. Dom was a navigator on 215 Sqn 63-66, 267 Sqn 66-68 and 115 Sqn 68-71 & 75-80; also display pilot for the RAFGSA. He had been taken ill in Martinique and flown home to UK by air ambulance, but died 8 months after being diagnosed with a brain tumour. We send our condolences to his wife, Caroline, and children. The funeral will take place at 1200 on Friday 31 August at St Adhelm's Church, Malmsbury, Wiltshire; ARDET members are welcome to attend.
[29 May 18]
Martin Willing has passed us the sad news that
Tony Ogden
had died in Spain on 18 December; he had suffered from cancer for a long time. Martin recalls that Tony was on No 11 Course in 1963 and joined 105 Sqn in Aden. When the main force disbanded, he went to 115 Sqn at Watton before retiring to join BEA on Viscounts. After a spell in Birmingham, he moved to Jersey, and ultimately back to Sussex and B Tours - from whom he retired at 55 and joined Singapore Airlines until aged 60. We pass our condolences to Tony's family.
[27 Apr 18]
Ken Patchett
has asked to join the ARDET Group. Ken was a navigational instrument technician at Thorney Island in 1962 and 1966-69 and now lives in Havant. We welcome him to the fold.
[23 Apr 18]
David Pyne has passed the sad news that
Brian Prior
died of cancer in March. Brian was a navigator on 267 Sqn in 1967-68 and completed an ARDET in 1968. We pass our condolences to Brian's family.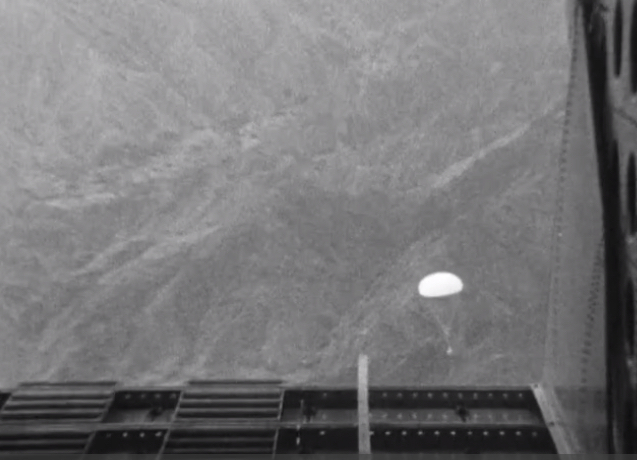 [9 Jan 18]
Tex Macaulay
has found a black-and-white short film 'Soldier in the Sun', covering Aden and Radfan in 1964. It has many shots of Argosies, Bevs and Hunters, including interesting shots of Argosies delivering one-ton containers to the troops on top of Jebel Wadina. The film can be found at the
BBC
.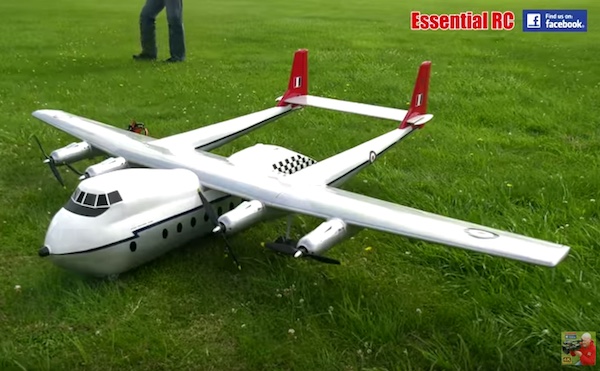 [8 Jan 18]
Dick Amor
has found yet another gem - a video of a large electric-powered flying model Argosy. In Boscombe Down colours, it flies beautifully and drops loads from the rear doors (but the parachute packer is not much good . .). Click on
YouTube
to view.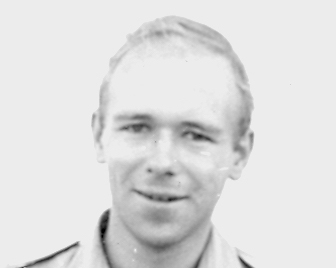 [Updated 3 Jan 18]
Norman Hodnett has passed us the sad news that
Alan Selby
died on 30 December after a long and hard fight against cancer. He had been in Chichester Hospital for a couple of weeks. Alan was on 105 and 114 Sqns before joining BA, and was a regular attendee at our reunions. We pass our heartfelt condolences to his wife, Valerie, and their family. The funeral will take place at 1400 on Friday 26 January at Worthing Crematorium (Horsham Road, Findon, West Sussex, BN14 0RG). Please email Valerie if you wish to attend via
vie48@aol.com
. The undertakers are: HD Tribe, 19 West St, Storrington, RH20 4DZ. Flowers are welcome, or donations to Cancer Research UK or Macmillan Nurses, Midhurst.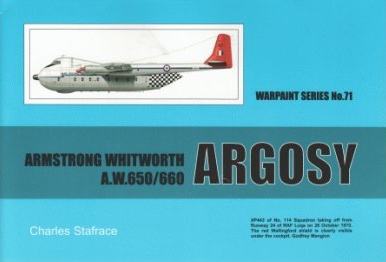 [23 Dec 17]
Dick Amor
has also found a recently-published book on the development of the Argosy and its civilian and military use. It's available in the 'Warpaint' series and is number 71. He explains that it contains several photographs and is worth a look for those who are interested. The author, Charles Stafrace, hasn't quite got all his details correct and there are some errors . . for example, he says that 38 people were killed when XP133 crashed at Afrag, when the number was 11. He also has the landing weight of the Argosy at 90,000 lbs when it was 92,000 . . and a coloured depiction of the battle-axe on a 105 aircraft shows a blue handle and not a green one! Some errors in his research or perhaps misprints! There is only one picture of a crew member at work and this is an AEO in the back of a 115 Sqn aircraft. Dick doesn't know of any other books concerning the Argosy unless any of our members is compiling one! The book can be found at
Guideline Publications
.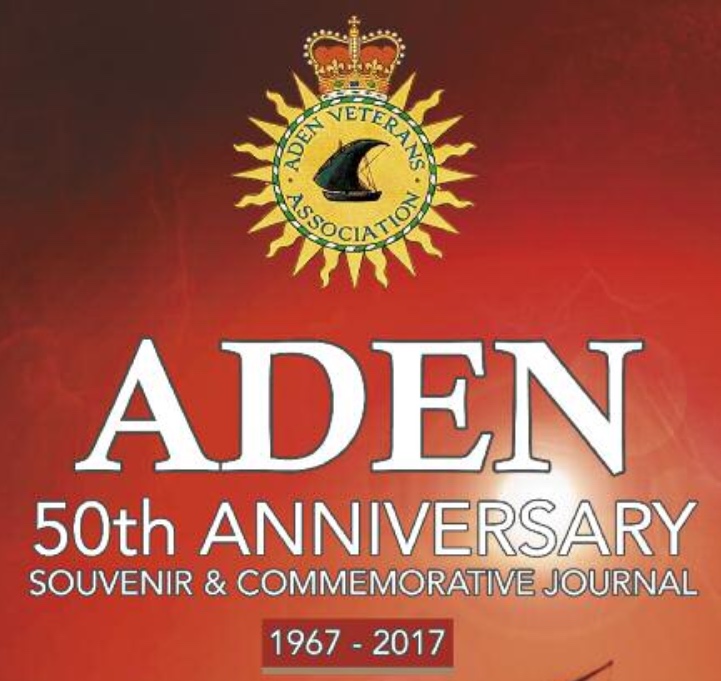 [14 Nov 17]
Dick Amor
has found an impressive 'Aden 50th Anniversary Souvenir & Commemorative Journal, 1967-2017'. The huge (112-page) journal gives an enormous amount of background as well as fascinating descriptions of the problem times and the withdrawal, including Argosy activities. It's a must-read for those involved and can be freely read and downloaded from
Horizon Publications
.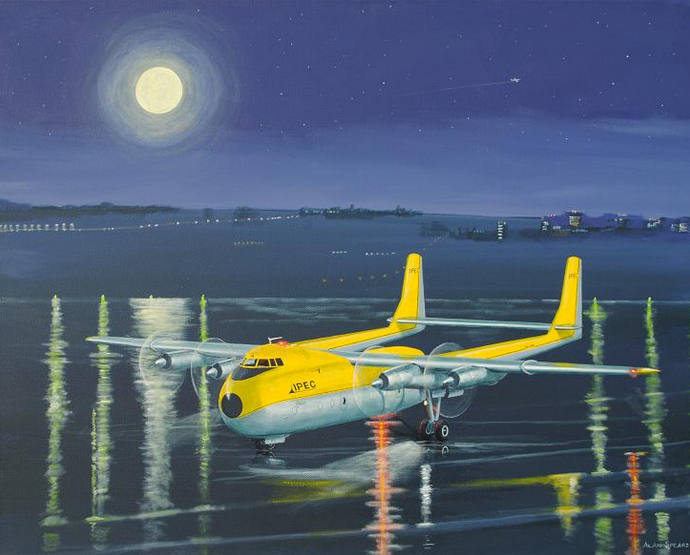 [27 Jun 17]
An aviation artist (and ex-professional pilot), Alan Spears, has put some attractive paintings of civil IPEC Argosies on his
website
. Some have been added to our
CIVIL AIRCRAFT PICS
- well worth a look . .

[29 Feb 16]
Jock Manson has spotted an article in the April issue (yes, it's published already . .) of
Flypast
magazine on
Bob 'Tin Leg' Olding
. Bob was a navigator and Flt Cdr on 267 Sqn around 1966. The article, entitled
'Courage over Suez'
, describes the remarkable circumstances that led to Bob losing his leg . . As a Fg Off, he was on exchange to the Royal Navy during the Suez crisis and found himself embarked on HMS EAGLE as nav (or observer in RN parlance) in the lead of 6 Venoms attempting to neutralise Egytian MiGs on the ground. They encountered intense anti-aircraft fire and sustained a hit under the cockpit. On a second run, a hole appeared in the bottom of the cockpit, all hydraulics were lost and it became apparent that Bob had suffered a severe injury - he injected himself with a pain-killer and continued his nav duties. After a wheels-up landing on the carrier and emergency treatment, Bob was flown to Cyprus, where his leg had to be amputated. For his courage in continuing his duties, he was awarded the DSC - a remarkably brave officer . .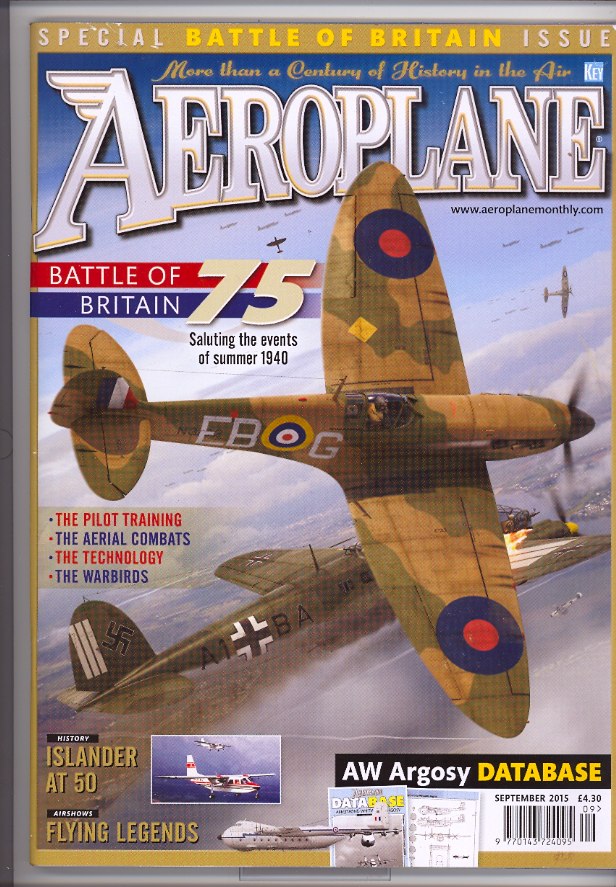 [15 Aug 15]
The September edition of
Aeroplane
magazine features an 18-page 'Database' of the Argosy, covering 'Development, Technical Details, In Service and Insights'. It's a fascinating read, with lots of pictures and drawings accompanying the words - some of which emanate from our own Martin Willing. Well worth a read - it's £4.30 at newsagents.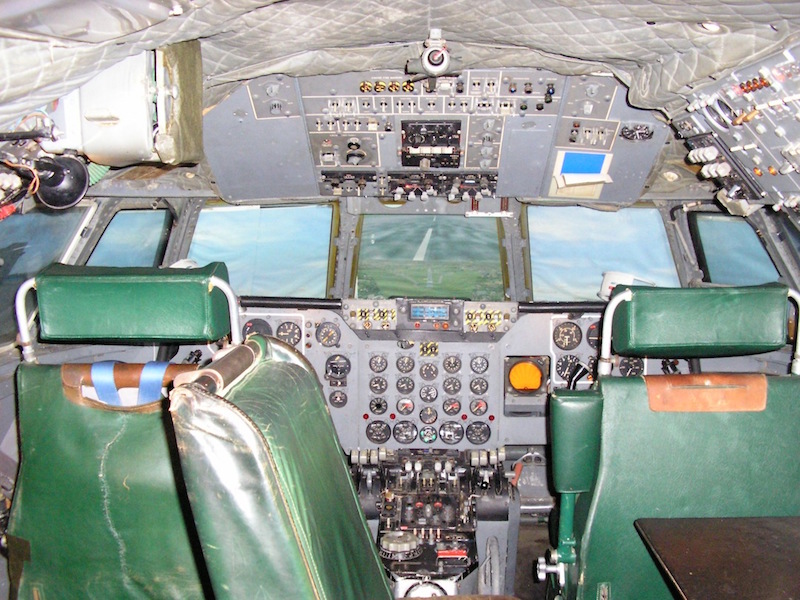 [2 Aug 15]
Trevor Lightburn
visited the Newark Air Museum today and took a couple of photos of the cockpit of XN819 that was recovered from Finningley - where it had been an Engineer Procedure trainer. There is no Nav position installed; the APU panel is there, as is the periscopic sextant mounting - but the museum volunteer had wondered what that was for . . The cockpit is wired up for lights and noise and Trevor reports that children of all ages have a great time in there! He recommends that it's worth a visit if anyone is passing by, it is a few minutes off the A1 at the A46/A17 junction. The museum is open most days, but the Argosy is only open when attended by a volunteer - so a check beforehand is worthwhile. Trevor's pics are in our Photo Gallery.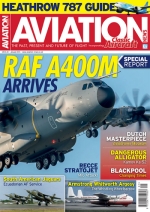 [26 Jan 15]
Nick Huband, son of John Huband, has spotted an article on the Whistling Wheelbarrow in the January issue of
Aviation News
. It's 5 pages of interesting reading - photos included are mainly of civilian aircraft or former RAF machines after they had been sold, but there are also pics of aircraft in RAF markings. If you can't find a copy, it can be bought online at
Aviation News
.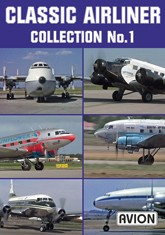 [22 Jul 14]
Nick Huband (see news below) has spotted an impressive DVD featuring Argosies at Benson in 1962. '
Classic Airliner Collection No.1
' from Avion contains 72 minutes of pure nostalgia, including Benson at work. It costs £17.95 + £1.50 P&P from
Avion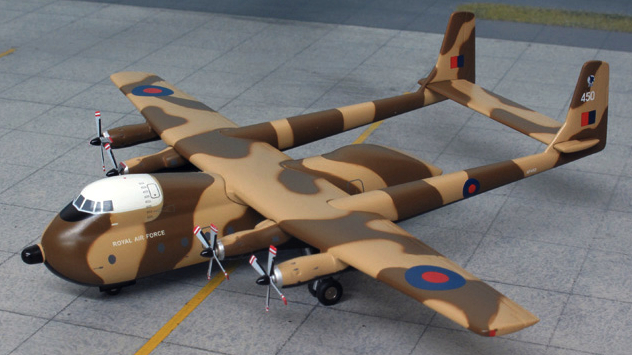 [7 Nov 13]
We have been informed of another company selling what appear to be superb 1:200 Argosy (or 'RAF Benson Load Lugger' as they call it) scale models. They have some in camouflage as well as in Boscome Down livery and the Training Command scheme as at Cosford. The die-cast models cost £50-60. For details see
Flying Tigers Ltd
.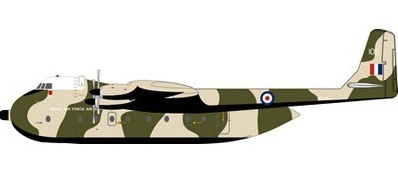 [Dec 12]
Martin Willing tells us that
Aviation 200
is producing Argosy models at 1/200 Scale - a handy size for detail, but not too big that they take up a lot of space. So far, it has produced XN817 in Boscombe Down colours, XP444 in 70 Sqn's colours and they are just producing XP108 in the camouflage scheme; it has also produced XP411 in the Training Command scheme as seen at Cosford. They cost around £50, but look good and a nice reminder of happier times. Martin adds that for those amongst us who are true aviation 'nuts', there are a mass of models at the website in various scales, so one can almost certainly have a collection of all the aircraft in which one has flown. The site is
www.aviationretaildirect.com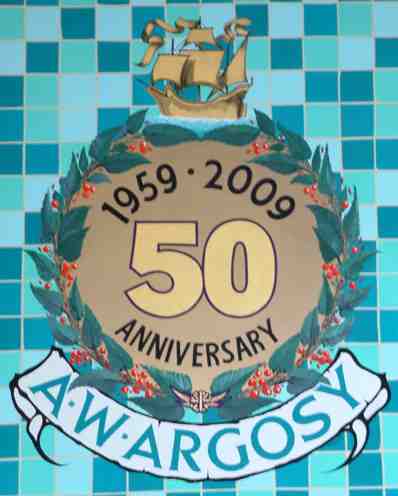 The Midland Air Museum at Coventry ran an Argosy Day on 19 May 2009 to mark the 50th anniversary of the first flight - it was actually on 8 January 1959. Three ARDET members attended - Ian Haldane, Dave Pritchard and David Broughton. To see a few pics of the day,
CLICK HERE
.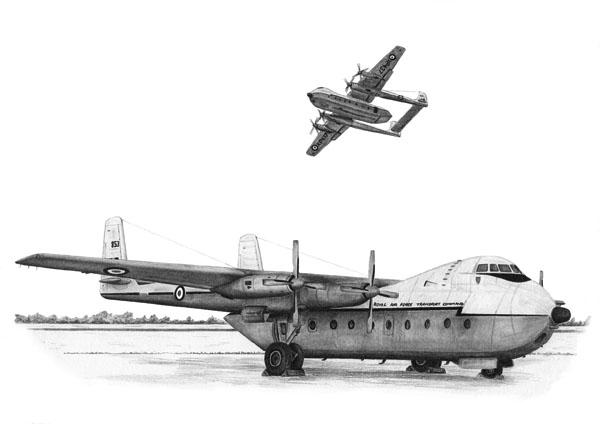 To celebrate 50 years of the Argosy (first flight was in January 1959), Brian Fare has produced a very nice A5-size greetings card featuring a pencil sketch of two aircraft, with more on the back. These can be purchased at £1 each + £1.50 postage for up to 5 cards. To order, email
Brian
.
__________________________________________________
'Drop Zone Borneo'
is a first-hand and entertaining account by
Roger Annett
of two-and-a-half years' excitement in the Far East from 1963 to 1965. It is the story of the so-called 'Confrontation' with Indonesia and the missions flown by the Argosy in support of combat troops on the ground. It is published in hardback with 160 pages and 36 illustrations by Pen & Sword Books (ISBN: 1-84415-396-7) at £15.99 plus £2.50p/p. Orders can be placed on 01226 734555 or at
www.pen-and-sword.co.uk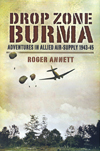 And Roger has written another book -
'Drop Zone Burma'
was published on 23 October 2008. With a strap-line
'Adventures in allied air-supply 1943-45'
, it demonstrates the brave determination of the transport squadrons' air and ground crews and the soldiers who fought one of the longest, most remote and demanding battles of the war. It is published in hardback with 214 pages by Pen & Sword Books (ISBN: 978 1844157504) at £19.99. Contact on 01226 734555 or at
www.pen-and-sword.co.uk
__________________________________________________
An interesting book
'Masirah; Tales from a Desert Island'
by Colin Richardson (an ex-RAF and SOAF pilot) has been found by Trevor Lightburn, who says it brought back a lot of memories (for anyone who wishes to be reminded of the place . . ). It is from Pentland Press with an ISBN 1 85821 801 2. It's still available from the author at £24.95 p&p free; contact Colin Richardson, Five Acres, Fulbeck Lowfields, Grantham, Lincs, NG32 3JD.
__________________________________________________
BACK TO TOP
HOME
THE SQUADRONS
NEWS
REUNION PICS
LINKS
MEMBERS LIST
PHOTO GALLERY